There are new regulatory requirements that will soon impact MSBs dealing in foreign exchange ("FX").  Securities are regulated by the provinces and territories, and the dates for implementation and regulators will differ, however, the intent of the law and the basic premise is expected to be the same Canada wide.  All FX transactions that settle in a period longer than two days will be required to be reported.  In some provinces, these requirements will come into force sooner for registered derivatives dealers dealing in FX, and later for FX dealers not registered as derivatives dealers.
If you are a securities dealer providing derivatives to your clients, you will most likely already be aware that these changes are on the horizon.  If you are an MSB providing FX services, these changes may have been less foreseen.  The comments below are intended to help FX shops, who are not currently registered securities dealers, to understand derivatives reporting.
You may also be asking; "what is a derivative?" Simply, a derivative is a financial instrument whose value is based on that of an underlying entity, which could be an asset, currency or interest rate.
The new rule is meant to collect data in Canada on the economic ecosystem of the use of derivatives for financial speculation. So FX dealers who facilitate clients who speculate for financial gain using FX trading will be impacted by this rule.  If you are an FX dealer, the first thing that you will need to know is whether or not your transactions are considered to be derivatives.
Are My FX Transactions Derivatives?
To determine whether or not your FX transactions should be considered derivatives, consider the longest time that it takes to settle a transaction.  In this context, to settle the FX transaction means that you have delivered the currency to your client, or on your client's behalf. A day, in this context, refers to business days (any days that your business is open and accepting or processing transactions).
For Example: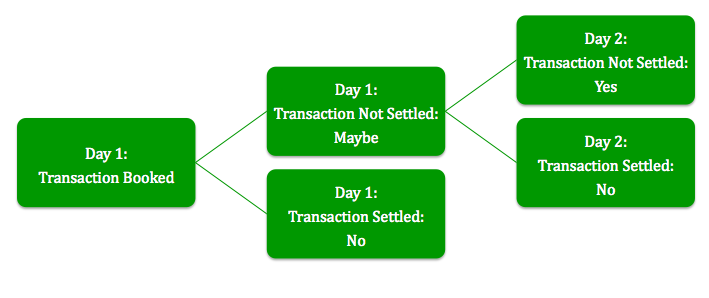 There is an exception provided in the case that there is an event that prevents the delivery of the currency (but this is expected to be rare).
If you provide FX transactions that either include a rollover provision (something that allows you to extend the contract) or are intended as speculative investments (whether or not the trade actually settles over two business days) you will also need to meet the same requirements.  If you are conducting these types of transactions, you will need to take steps to be prepared by the time that the laws come into force in the province(s) and/or territories in which you do business.
My Transaction Are Derivatives – Now What?
As an FX dealer, you will have a choice:  you can either change your practices to settle all of your transactions by the end of the next business day; or you can complete additional steps to ensure that you are compliant.  For FX dealers that want to continue to settle transactions that are considered to be derivatives, there are 3 steps that must be completed before June 30, 2015:
Obtain a Legal Entity Identifier ("LEI")
Set up Unique Product Identifiers ("UPIs")
Set up Unique Transaction Identifiers ("UTIs") for applicable transactions (if your IT system doesn't already do this)
After June 30, 2015, you will also need to keep certain records and report all applicable FX trades that are not settled within two business days.
Legal Entity Identifier
FX dealers to whom the new requirements apply will need to ensure that they obtain a Legal Entity Identifier ("LEI"), from a Local Operating Unit of an accredited Trade Repository ("TR").  A list off TRs is available at leiroc.org.  This is expected to cost approximately $200-300 and the application process is expected to take 1-3 weeks.
Unique Product Identifiers
You will need to create Unique Product Identifiers UPI for all applicable product types you offer to clients.  For most FX dealers, this means that you will need to create a code to identify transactions that are settling over more than two days.  A list of the types of transaction identifiers can be found at isda.org under OTC taxonomies in the foreign exchange tabs of the downloadable document in Microsoft Excel.
Unique Transaction Identifiers
You will need to create a system that generates or attributes Unique Transaction Identifiers ("UTI") for every applicable transaction.
Record Keeping And Reporting
Once you're registered and you have all of your identifier numbers in place, you will need to report applicable transactions to the TR in "real time" (as soon as possible after the transaction has settled).  This means that you will need to have a system in place that keeps track of applicable transactions and a process to stay on top of reporting.
The information that you will need to report for each applicable transaction includes:
Your LEI (and the LEIs for any other applicable parties to the transaction);
The UPI;
The UTI; and
Transaction information.
This information is sent to the local TR
Keeping Up To Date
We've assembled some quick resources to help you stay up to date.  You can use the links below to connect to the regulators' websites and other resources for your province or territory.
Need A Hand?
We're not securities lawyers, but fortunately we know someone who happens to be just that. For assistance registering as a derivatives dealer, resolving potential disputes, and securities law questions, contact Susan Han at AUM Law.
If you require assistance reviewing your business for triggering activities, amending your policies, procedures and risk assessment, as well as,  setting up a reporting regime, please contact us.