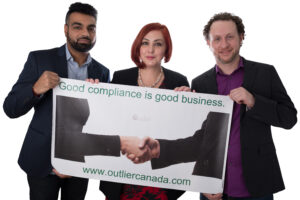 We're looking for an AML compliance person. Initially, this is going to be a part-time / backfill role, but we'd love for it to be a permanent role (either part time or full time, depending on the need and fit). We have a team member that will be taking some time off shortly, and we were at the point that we were talking about bringing on another compliance ninja before that. We take bringing on new team members very seriously. We're a small group, and we work very well together. We'd be lying if we said that "can we just handle the work ourselves?" isn't something that was brought up (multiple times). You're reading this posting because we need a very capable human, and maybe that's you.
While we know many great folks, we've chosen to post this role publicly in the interest of widening the possible field to include candidates that we might not know personally.
What does the job actually entail?
We're compliance consultants. Our practice includes anti-money laundering (AML), privacy, and regulatory compliance. Most of the companies that we work with are AML reporting entities (banks, credit unions, money services businesses, securities dealers, dealers in precious metals and stones, etc.). Our work is project based. Those projects include:
Developing and updating policies, procedures and risk assessments;
Designing and delivering training;
Conducting effectiveness reviews;
Helping clients to prepare for reviews and regulatory examinations;
Helping clients to remediate review and regulatory examination findings; and
Helping clients with compliance related questions.
In order to do this effectively, we believe that you need to have deep, hands-on experience in these areas. This is why all of our team members have over 10,000 hours of in-house compliance experience. This is non-negotiable.
What you'll love about working at Outlier
We think that our team is pretty great: we're all professional, friendly, and incredibly nerdy.
No two days are the same: we work on different projects that move at different paces. As long as the desired outcome is delivered on time, you can work at your pace from your location. Occasionally we may need to be onsite with our clients but most work is done remotely.
Our clients are professionals, entrepreneurs and thought leaders: we learn as much from our clients as they learn from us. It is often an absolutely incredible journey.
The compensation model is radically transparent and tied to individual performance: our consultants earn a share of the revenue related to each project in which they participate. These are democratic decisions that are visible to the whole team, ensuring fairness.
What might terrify you, but shouldn't stop you
We think that our team is pretty great: at first, we're going to seem intimidating and cliquey. We'll do everything that we can to bring you into the fold, but you're going to have to identify and ask for what you need.
No two days are the same: sometimes things get hectic and it can be stressful. You'll need to be able to provide your own structure and manage your own schedule.
Our clients are professionals, entrepreneurs and thought leaders: they will push boundaries and ways of thinking, and they won't always be compliance-minded.
The compensation model is radically transparent and tied to individual performance: openly discussing compensation can be awkward at first. We'll try to remember that and be empathetic.
Some things that we think are probably true about the right candidate
You're really good at what you do, but you are never satisfied.
Every time you've left a job, they've had to hire several people to replace you. You try not to gloat about this too much, but sometimes you can't help it.
When put in charge of a well-functioning system, you're likely to test "process improvements" until something breaks.
You're at your very best when you're fixing something broken or building something new – those challenges invigorate you.
When a business person tells you what they want to build, you immediately start thinking about how to execute their ideas within the parameters of existing law and regulation.
The phrase "that's the way we've always done it" makes you either shudder or clench your jaw.
In your spare time, you probably also make or build something.
Want to apply?
Send an email with your resume attached in PDF format to: ninjas@outliercanada.com by May 13, 2022.
The subject line should read: Compliance Ninja, 2022
In the body of the email, please indicate why you believe that you would be a good fit, referencing this posting, as well as where you clocked your 10,000 hours of in-house compliance practice. Please feel free to include any questions that you have for us at the outset as well.
Please note that messages submitted in any other formats via any other channels will not be considered. Only applicants selected for an interview will be contacted.